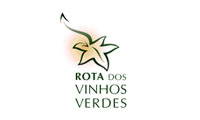 Rota dos Vinhos Verdes
Comissão de Viticultura da Região dos Vinhos Verdes Rua da Restauração, 318
4050-501 Porto
Tel.: 22 607 73 00
Fax: 22 607 73 20
rota@vinhoverde.pt
rota.vinhoverde.pt

Green is the dominant colour in the landscape of Minho and Douro Litoral, where the Demarcated Region of Vinhos Verdes is located. The green fields are often crossed by small streams and covered with trellised vines and other agricultural products.
Source: Infovini and Vinhos Verdes Routes.
The region is marked by granite castles, churches, bridges and the typical granaries. Be fascinated by the historical places you'll find in the cities of Guimarães and Braga, feel the sea breeze in Viana do Castelo and travel to the traditional Ponte de Lima. In the north of the region, taste Alvarinho, considered by many to be the best Vinho Verde in the entire region. Take the opportunity to visit the villages of Soajo and Castro Laboreiro and enjoy the magnificent landscapes of the National Park of Peneda-Gerês.