Beira Interior, Távora-Varosa e Lafões are regions of the interior located between Beira Baixa and Beira Alta, nexto to the borders with Spain. Its denominations (some more historic than others and each one with its own climate) produce very distinct wines.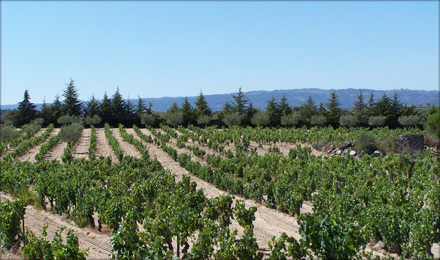 The mountainous relief endows the region with granite and schist soils. The mountains and altitude also influence the region's climate: summers are dry and hot, while winters are very cold and snowy.
Although the wine is almost entirely produced by cooperative wineries, local small and medium producers are also starting to commercialise their wines. The most grown red grape varieties in the Denomination of Controlled Origin of Beira Interior are Tinta Roriz, Bastardo, Marufo, Rufete and Touriga Nacional. The dominant white grape varieties are Síria, Malvasia Fina, Arinto and Rabo de Ovelha. The region has good potential for the production of fresh and aromatic white wines, as well as fruity and full bodied reds.
The Denomination of Origin of Lafões is a small region in northern Dão. Although it doesn't have many producers, its red wines are recognised by their brightness and white wines by their high acidity. Amaral and Jaen are the grape varieties used for the production of red wine, while white wine is made from Arinto, Cercial and Rabo de Ovelha.
The Denomination of Origin of Távora-Varosa is located north of Beiras and borders with the Douro region. Although it is a small region, it plays a major role in the production of sparkling wines. White grape varieties are dominant and include: Malvasia Fina, Cerceal, Gouveio and Chardonnay. The most planted red grape varieties are Touriga Francesa, Tinta Barroca, Touriga Nacional, Tinta Roriz and Pinot Noir. Although the region is mainly dedicated to the production of sparkling wines, it also produces fresh whites and soft reds.