In Dão, vines are located at a height of about 400 to 700 metres and in soils with many pine trees and maize cultures. The region is surrounded by mountain ranges that protect it from wind. The wines produced in Dão have great potential for ageing in bottle.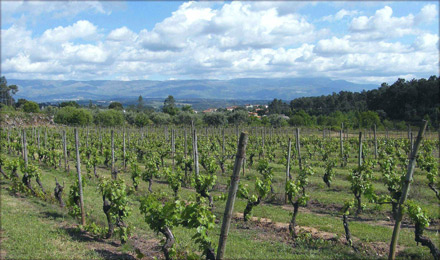 Dão is located in the Beira Alta region, in the centre north of Portugal. The region's geography is excellent for wine production: the Caramulo, Montemuro, Buçaco and Estrela mountain ranges protect the vine from wind. Although the region is extremely mountainous, the altitude is not as high as in the south. The 20000 hectares of vines are mainly located at a height of about 400 to 700 metres and are developed on low depth schist (in the southern area) or granite soils. Dão's climate is under the simultaneous influence of the Atlantic and the Interior, and this is why winters are cold and rainy, while summers are hot and dry.
In the Middle Ages, the vine was mainly developed by the clergy, especially the Cistercian monks. It was the clergy that was most acquainted with the agricultural practices and, as it exerted a major influence over population, the clergy managed to occupy many lands with vine and therefore increase production. However, it was only from the second half of the 19th Century onwards (after the downy mildew and phylloxera pests) that the region developed.
Dão has many producers, each one owning small farms. For decades, the grapes grown in the region were delivered to cooperative wineries responsible for producing wine. The wine would then be retailed to medium and large companies that bottled and sold it with their brands.
In 1986, when Portugal entered the European Economic Community, there was a need to alter the production and commercialisation systems for these wines. Many companies from outside the region, that used to buy wine from local cooperative wineries, bought lands to start their own plantations. Cooperatives, on the other hand, modernised their wineries and started commercialising their own brands, while small producers decided to start producing their own wines. Not even the vines escaped modernisation: they went through a restructuring process that included new techniques and the grape varieties suitable to the region.
The vines are made up of several grape varieties, among which the Touriga Nacional, Alfrocheiro, Jaen and Tinta Roriz (in the red varieties) and Encruzado, Bical, Cercial, Malvasia Fina and Verdelho (in the white varieties). White wines are very aromatic, fruity and balanced. Red wines are full bodied, aromatic and may become complex after ageing in bottle.