Bairrada is rich in the production of white and red wines made up of traditional grape varieties, such as the abundant Baga, and international ones imported to Portuguese soils, such as the Cabernet Sauvignon.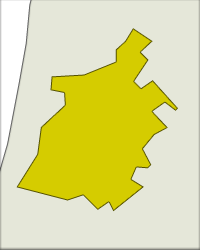 The region is located in Beira Litoral, between Águeda and Coimbra. It is very close to the sea, which is why its climate is typically Atlantic: mild and rainy winters, and summers softened by the effects of the Atlantic winds.
Most wine farms are small sized. The area occupied by vines (mainly in limestone-clay or sandy soils) does not go beyond 10000 hectares.

Wine production in the region is sustained by cooperatives, small and medium-sized companies and small producers. These last ones commercialise the so-called "vinhos de quinta" (farm wines), which have become very important in the last couple of years.
Although wine production existed since the 10th Century, it was only in the 19th Century that Bairrada became a quality wine producing region. The scientist António Augusto de Aguiar studied the wine production systems and, in 1867, defined the region's borders. Twenty years later, in 1887, the Escola Prática de Viticultura da Bairrada (free translation: Wine School of Bairrada) was founded with the purpose of promoting the region's wines and improve the wine growing and production techniques. The school's first practical achievement was the creation of sparkling wine, in 1890.
Baga is the main red grape variety of the region and is usually planted in clayey soils. Wines made from this grape variety are full of colour and very acidic, but also well balanced and of great longevity. Recently, it has been permitted to plant international grape varieties in the DOC region of Bairrada. Some of these are the Cabernet Sauvignon, Syrah, Merlot and Pinot Noir, which are grown together with national grape varieties such as Touriga Nacional or Tinta Roriz.
White grape varieties are planted in the region's sandy soils. The most planted grape variety is Fernão Pires (known in Bairrada as Maria Gomes). The Arinto, Rabo de Ovelha, Cercial and Chardonnay grapes are also planted, though in lesser quantities. These wines are delicate and aromatic. The region's sparkling wines are often used to accompany local food or as appetisers.