Portugal is a small country (92 072 km²) in the south west of Europe. The Madeira and Azores archipelagos are also part of this country, the latter constituting Europe's most occidental point.
The country is under the influence of the Atlantic Ocean and occupies the western part of the Iberian Peninsula. The Mediterranean influence on the Portuguese culture is still felt today, namely in gastronomy.

Portugal has a diversity of landscapes: from the dominant sea to the mountain ranges in the interior, the country's natural beauty will surely seduce you. Each region has its own climate. The proximity of the sea ensures mild temperatures throughout the year, while the interior is characterised by rigorous winters and dry summers. The north west is the region with the highest precipitation rate, whereas the south (Algarve) has the most famous beaches.

The subtropical characteristics of Madeira endow the region with mild temperatures throughout the year, usually between 24ºC and 19ºC. Temperatures in the Azores are also mild, though precipitation is common, even in summer.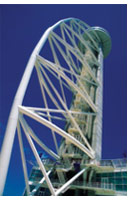 The country's secular history is visible from north to south: from Vale do Côa's rock art to contemporary buildings in big cities. World heritage cities and protected landscapes, traces of Roman, Barbarian and Arab occupations and the influence of other cultures during maritime expansion make Portugal unique. Besides, you will always be warmly welcomed by locals, since the Portuguese are known for their hospitality and kindness.
Portugal has 10.5 million inhabitants, unevenly distributed across the country. Big urban centres (namely Lisbon [capital city] and Porto) are located on the country's coast. The interior has fewer inhabitants and is still widely dominated by agriculture and cattle raising. Besides, it is in the interior that the vines for producing the most famous Portuguese wine (Port) are grown.
But Port is not the only wine Portugal has to offer. Nowadays, each producing region is equipped with recent technology and makes excellent quality wines using national grape varieties.
The country's geographical location and small size do not prevent it from being one the major wine producers in the world. And why not get to know Portugal at the table?